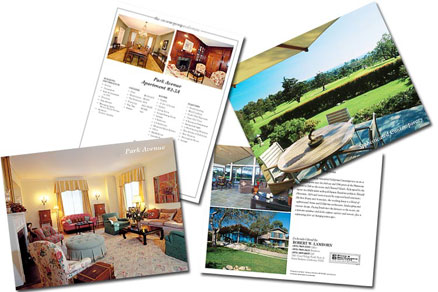 $1050 for 500 copies
Includes 3 photos
$275 for 500 additional copies
Recommended Text is about 16-20 lines of type, however, this largely depends on the number of photos.
For the listing that requires multiple views, or that benefits from a dramatic full bleed photo, the 8.5 x 11 two-sided Color Sheet is a perfect marketing piece. The base price of this brochure includes three photos. Additional photos may be added for $150 each. A popular format with agents is a full bleed photo on the front and two or three additional photos with text on the backside. The full bleed photo on the front is a wonderful way to present the front of the home, a special room, gorgeous views, or one of a kind landscaping. The two photos on the back can capture additional features of the property.