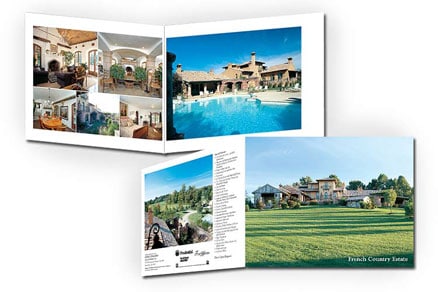 Full Color
8 photos
$2900 for 1000 copies
Extra Copies are $75/100 copies
Recommended Text can be 1-3 pages, depending on the layout of the photos.
Our portfolio foldover is the perfect brochure for high value properties and estates. A brochure of this size includes up to 8 photos, with an enormous variety of designs to choose from. We can also customize the design for you, ensuring you have a unique presentation of your listing. This is a high value promotional tool for showcasing a "one of a kind" view, a city skyline, ocean sunset, or multiple rooms of a grand estate. The 8.5 x 22 is the perfect marketing piece to display broad, sweeping horizontal photos of an estate, especially when the property has grand landscaping. Along with this 8.5 x 22 brochure is a gift from The Iris Group: 500 free 4.25 x 6 standard size postcards. The postcard includes the photo of the main shot used from your brochure and backside text information.